Scan your skin concern
Get reliable results immediately
Group Project Members: Eleni Antonopoulou, Shandira Fergusen, Sancharee Ghosh, Nhu-An Le
User Research, UX Design, Product Design
Figma, pencil & paper, Lucid app
Interviews, Affinity Mapping, Competitive Analysis, Task flows, Usability Testing,  Mind Map Creation, Wireframing, Interaction Design
I was partnered with Shandira Fergusen, Nhu-An Le, and Sancharee Ghosh aiming to improve an aspect of healthcare.
We joined forces, skills, and enthusiasm in order to deliver a work that we are proud of and to solve a real world problem. Over the course of three months of the project duration, we faced huge challenges that enriched my mindset as a designer. Working on an end-to-end product with a multitalented team was a priceless experience that invigorated my design process.
My main contribution to the design process was in Interviews, Affinity Mapping, Persona Development, Ideation, Remote Usability Testing, Competitive Analysis, Mind Map Creation, User flow and Wireframing.
Skin health is central to one's overall well-being. Common skin issues
often cause unnecessary panic and emotional distress.
At the same time, the wait time for a dermatology appointment in US is between 15 to 30 days.
Figuering out how urgent is our skin problem shouldn't be so streesful!
How might we improve skin disease awareness to reduce emotional distress at the onset of unknown skin changes?
For whom are we going to design?
At the outset of the project, we didn't have a clear understanding of how people handle an unknown skin change or how was the experience attempting to make an appointment with a dermatologist.
So we started the research process by interviewing 6 people who currently have or have had skin issues. In order to analyze the interview findings, we created an affinity diagram. The groupings pointed to some common frustrations.
Our compass to design with empathy
In order to maintain empathy at every step of our design process and define user problems, we developed our main Persona.
Also, the Journey Map represents a visualization of the process that our persona goes through in order to accomplish her goal.
Her needs, frustrations, and pain points were our compass to design for her a meaningful and delightful experience.
We aim to provide a reliable resource for skin screening in order to support immediate treatment.
How the problem is solved right now?
Kaiser Permanente telehealth integration with the electronic medical records was an opportunity to build our product with one of the largest health insurance providers in North America.
To kick off user flow design we sketched a mind map to reveal our persona's main objective.
The user's objective is to know if the skin condition is low, moderate or high risk in order to act accordingly.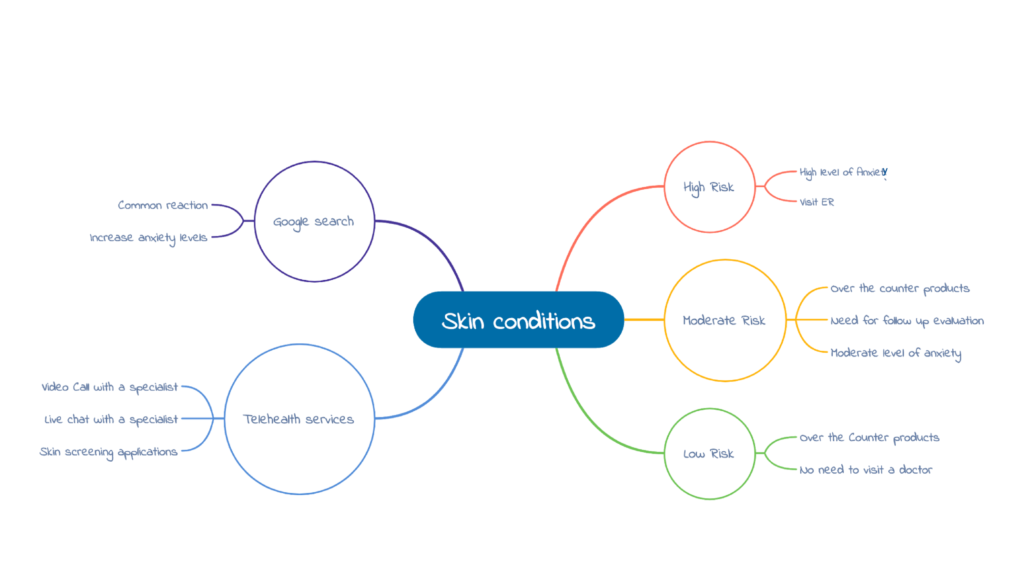 We saw the opportunity to design an AI  tool that provides state-of-the-art preventive care for skin self-examination.
The design should help the users achieve their desired outcome seamlessly.
The design should give users control in the process, allow them to redo, undo and cancel an action.
Aesthetics and Minimalist Design
A minimalist design helps users focus on their goals without getting distracted by the design.
"What is the User Experience when the screening result is not certain due to technology limitations?"
We focused on defining the task flows for the unresolved result and the high severity result because both have high value for our persona.
Defining the User Flow helped us to identify how many screens are we going to design for the user to reach her objective.
To resolve the issue keeping the user in center snd front we decided that the result of a unresolved case should be treated as an urgent one.

A doctor will call the patient in 24 hours to resolve the issue via video call or an urgent appointment.
Our approach boosts user experience because protects the user from the risk of having a skin concern being misdiagnosed.
Wireframing streamline our process and after numerous iterations and usability testing, we built the first version of our high fidelity prototype.
The mock-up of our first design was used for usability testing in order to 0bserve the user interaction with the product.
Is our design friction-free and delightful in use?
Using the prototype we conducted 5 rounds of usability testings.
The goal of testing was to understand:
 

 How easily users navigated through each screen, 

How they reacted to the copy, and 

How intuitive the flow was
The user testing revealed some usability issues.
The perceivability, predictability, and feedback of some interactions were problematic. However, we found that learnability and consistency were at a satisfactory level.
Observing the confusion and difficulty our users faced, we continued with iterations on our prototype aiming to serve better our users goals.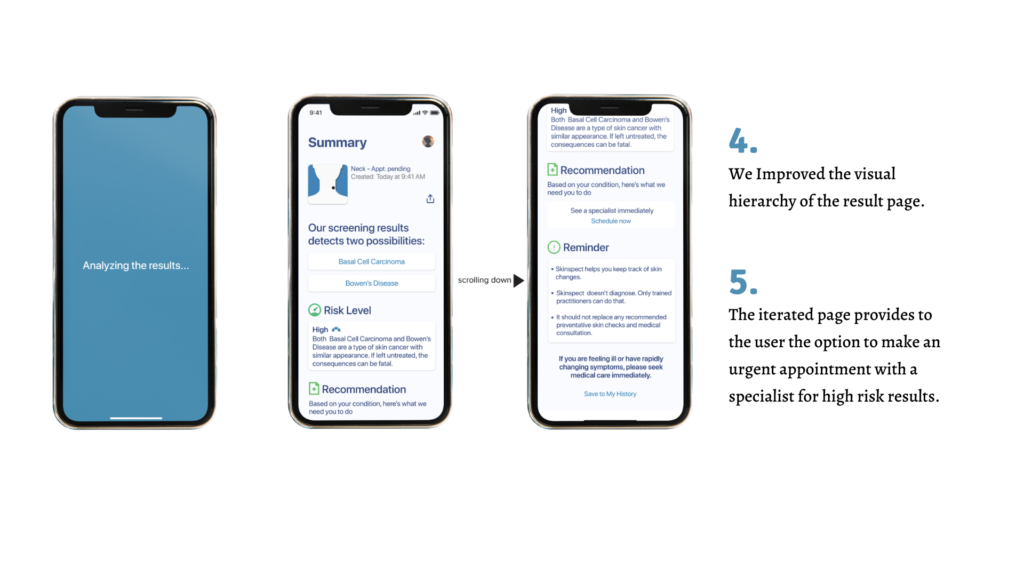 Do the improvements have impact on User Experience?
In order to understand if the iterations improved the users' experience, we run usability testing on 5 new participants. 
The results were satisfying, as the second version of the Skinspect hifi prototype revealed that the perceivability, predictability, and feedback were improved and assisted a smooth interaction of the user with the prototype.
Skinspect app - High Risk Flow
Support Trust & Credibility 

Health is a very personal matter and patients make themselves vulnerable with every interaction. Competence, credibility, and trustworthiness are essential, thus we decided to work on a solution under the umbrella of Kaiser Permanente, a reputable health care company.
Everytime design with the interaction design principles in mind

The last thing a user needs to deal with while navigating healthcare issues is a confusing layout. We learnt that respecting the interaction design principles is imperative to deliver an efficient and enjoyable user experience.